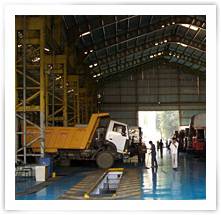 Tata Motors Customer Service
Customer Service
Tata Customer Service meeting and exceeding the ever-evolving needs of our customers is the core focus of our highly skilled Customer Service agents. At Tata Commercial Vehicles we strive to increase customer satisfaction and exceed expectations on all fronts.
With regular, on-going needs evaluations, in the form of visits, technical seminars and dealers/Tata Authorised Service Station (TASS) conferences, carried out by our customer service agents, Tata Commercial Vehicles is able to ensure that product quality is constantly enhanced as a result of the feedback received.
Our nationwide dealer and TASS network is fully equipped to handle the service requirements of Tata Commercial Vehicle customers. Our unwavering commitment to minimising downtime, reducing repeat failures, decreasing the costs of services and addressing the needs of our customers sets us apart from our competitors.
Tata Genuine Parts
Tata Genuine Parts are specifically designed for Tata Commercial Vehicles, ensuring longer upkeep and faster uptime of the vehicle. Tata Genuine Parts under go rigorous testing and are required to pass stringent quality control checks to ensure that every vehicle fitted with Tata Genuine Parts remains as safe and reliable as ever.
Manufacturers of counterfeit parts are concerned with profit margins and not with the safety of drivers and other road users, or with the potential damage that can be caused to vehicles. Counterfeit parts are made from sub-standard materials, which may lead to frequent failures and increased down time and may even cause permanent damage to the vehicle.
Tata Genuine Parts are available all across Southern Africa at all Tata dealers and Tata Authorised Service Stations.